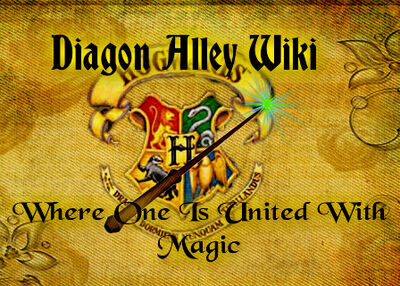 Welcome to the Diagon-Alley Wiki
Edit
This is where you can get school supplies and join Hogwarts. Help will be given to those who ask for it. Create a character, get a wand at Ollivanders , Money at Gringotts ... get sorted , join classes, get house points, go to your dorm or common rooms, and much much more. Don't be shy, come on down and enjoy!!!
Affiliates
Edit
Do you like deers? Want to roleplay them? Then go to Deer Herd Roleplay Wiki. Click here to start.
Do you want Medieval Roleplay Experience? Want to be a Knight, Duke, a king or queen? Then you want Crusade RPG Wiki. Click here to start.
Like Warrior Cats? Have to read the books and loved it? Then go to Warrior Cats Clan Roleplay Wiki. Make a cat, join a clan or be a loner, find a mate, hunt for prey and much much more! Click here to start.
Ad blocker interference detected!
Wikia is a free-to-use site that makes money from advertising. We have a modified experience for viewers using ad blockers

Wikia is not accessible if you've made further modifications. Remove the custom ad blocker rule(s) and the page will load as expected.